Wasn't even a full week and Derpy's Mailbag has become full again. Got a strange mixture of merchandise and pony sites this week, you'll see when you look in the bag.
Merchandisers – We are going to be running a once per week article on mechandise and what is for sale from the community. If you happen to submit something merchandise while, it will be appearing in those posts rather than the mailbag. This week though we go merch in here. When submitting merch, please give us the links you want posted, namely where the items is being sold and deviantart account, etc.
And now, for the mail.
---
#0001 – Derpy Plushie w/ Mailbag by siriasly [Ebay] [DeviantArt] Currently: $129.49 @ 33 bids (Ends 2/2/12 15:23 PST)
Hello everypony!
Up for sale is everyone's favorite mail mare, "Derpy Hooves," as seen in the television show "My Little Pony: Friendship is Magic." Derpy was lovingly made out of brand new, super soft Minky brand fabric, 100% premium polyester fiberfill, and is mostly (see below) machine stitched. Her eyes and "Cutie Mark" are fully machine embroidered for a clean, professional look! This plush doll is unique; she was created from my own drafted pattern and comes with custom designed mailbags with an embroidered muffin stamp which says "Derpmail" on both sides.
NOTE: Derpy's head, mane, tail, and wings were delicately hand stitched – please be aware that this plush was made with an adult collector in mind. Gentle cuddling is fine but she will not hold up to rough handling – buyer beware! Derpy should NOT be machine washed – spot clean only to remove any dirt or stains. She comes from a smoke-free, pet-free (although animals have lived in this apartment in the past so please consider this if you have allergies) home and is made from 100% new materials. Her front, right hoof has an embroidered signature at the bottom which says "Siriasly 2012" – you can visit my DeviantArt page at siriasly.deviantart.com to see future plush creations and graphic designs. **This is a non-licensed piece of fan art with absolutely no affiliation to Hasbro, Inc.** I do NOT accept returns so please be sure that you are fully aware of the details of this item. Should you have any questions or concerns, I would be more than happy to answer them!
I only accept Paypal – payment is due within three days of the end of auction. This item will be shipped via Fedex Express 1-3 business days after payment has been cleared. If you would like international shipping, please contact me and we will work out the shipping cost.
Thanks for looking! Happy bidding :)
---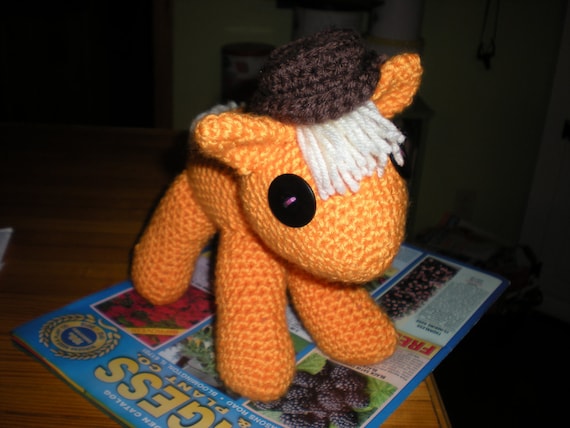 #0002 – Crochet Ponies by Crowbell [Etsy]
Crowbell makes crochet ponies among other things in their shop. General price is about $45.00 USD.
---
#0003 – Fluttershy Plushie by eebharas [Ebay] [DeviantArt] Currently: $107.50 @ 10 bids (Ends 2/2/12 19:02 PST)
You are looking at a handmade custom plushie of the adorable pony, Fluttershy from the series My Little Pony Friendship is Magic.Fluttershy is made of Ultracuddle fabric and Minky. She's stuffed with premium poly fiberfill and her eyes and cutiemarks are both machine embroidered. She has cutie marks on both sides. She has some wire in her wings to make them posable, and she stands on her own.  She stands at 9 1/2 inches from the bottom of her hoof to the tips of her ears, 10 inches from the tip of her nose to the widest part of her tail, and she has a wingspan of 11 inches. She has: A Scarf made of fleece, a Hat made of fleece and Ultracuddle fabric, 4 Winter Booties made of fleece and Ultracuddle fabric, Saddlebags made of fleece, 5 Felt/Fleece Flowers, which attach with velcro, A Felt/Fleece Butterfly, which attach with velcro, One small Angel Bunny Made of FleeceI am not affiliated with My Little Pony or hasbro in any way. This is a piece of fan art, not official merchandise. As this is handmade, it should not be handled roughly by small child, because there are several hand-sewn parts. Cuddling is perfectly fine. If she gets dirt on her, do not machine wash. Spot clean with a preferably colorless laundry detergent and a damp towel. Happy bidding!
On Jan-29-12 at 14:56:50 PST, seller added the following information:
*IMPORTANT NOTE* It didn't even occur to me to mention until now, BUT I should point out that the flowers and butterfly all stay on when she is sitting still. The velcro does not stick to the fabric the way it would stick to the other half of a piece of velcro. So the flowers are great for display, but will likely fall off if you're hugging her too hard. Keep that in mind.
---
#0004 – Derpy Hooves 001 by SparkAbsurd [DeviantArt] (Not For Sale)
Knitted Derpy Hooves.
I started her in honor of "The Last Roundup" and was almost immediatly contacted by someone that wanted me to make a Derpy. As if it were ment to be. Sewing on all her little bubbles was fun, but time consuming.
Roughly 7 inches tall (without her hat), 6 inches long (excluding tail), and 2.5 inches wide.
Made from acrylic yarn, felt, and poly-fill. Knitted on size 6 needles.
More views
Right/Front – [link]
Mark – [link]
Front – [link]
---
#0005 – BronyNet (Pony Social Network) (http://bronynet.com)
BronyNet is a brony social networking site, loosely based off of Facebook. Unlike Flankbook and PonySquare, though, it was built from scratch for the purpose it's now serving. (The other two use premade packages.)
People have been saying lots of good things about my site… So much so that I really think you should maybe consider giving it its own post.
Some people on there wrote up some amazing testimonials, too.
Some highlights from these (you have their permission (and are encouraged) to put these in the post):
"This website really is a very special and important part of my life.  It's a place where you can make some real friends who will always be there for you.  It's a place where you can go and talk about what you want without fear of being judged or written off.  And, you can be a part of a community of strongly united bronies.  It's honestly one of the best things that's ever happened to me."
"BronyNet transforms the My Little Pony fandom from a crowd of amiable strangers into a small, personal, intimate discussion. Simply put, BronyNet fosters relationships.

"
"BronyNet has helped me meet so many new people, and everyone I've met is nice, supportive, and always there for me.
In short, BronyNet has helped me be a happier and more social person.  This is the best Brony related website I have ever found."
"BronyNet has become one of the funnest parts of my day.  I've meet some amazing people there, and I'm so thankful for this site."
---
#0006 – Cloudsdale (Pony Social Network) (http://www.CloudsDale.org)
Now, what is Cloudsdale you may ask? Cloudsdale is a social platform which inhibits two core functionalities which are closely tied together. Cloud Chat and Rain Drops. The Rain drops are generated through URL's handled by a modular system i wrote which can crawl the web and depending on the site content, return data, presenting itself in suitable ways to the user, similar to how Facebook does it, but scalable to another level. The Cloud Chat concept is pretty basic; each cloud work like a chat room, all with their own "Dropzone" where you can directly drop something on the Cloud through the drop input or just get into the chat with your homies and drop links in there, all which will be crawled and saved to that Clouds dropzone.
Cloudsdale is till a work in progress and in the near future I aim to have created and implemented 20-30 crawling strategies making the links you share even prettier, more freedom to arrange or promote your drops, easier navigation of ponies and clouds on the site and more great features to tie fulfill the vision of having an application where chatting and sharing should be both intuitive and visually appealing.
---
#0007 – Equestria Beats (Pony Music Site) (http://www.EqBeats.org)
We've featured these guys before in the mailbag, and they've come around again with a fresh design and added features over at
---
#0008 – Winter Wrap Up (Power Metal) by CyrilRufus
---
#0009 – When I'm Derpy by Zudeare
---
#0010 – Derpy Goes To Jail by Comeaux